RESUMEN EN ESPAÑOL DE LA  INTERPRETACION Y APLICACION DE LO DICHO POR MR. MAXWELL ACERCA DE LA PALABRA AMBICION... 
Ambiciòn es una palabra, dice Mr. Maxwell, que como joven, estuvo lleno de ella. El sabìa lo que querìa, sabìa donde querìa llegar,y tenìa la pasiòn para lograrlo y llegar. Dice Mr. Maxwell que era conciente de sus metas. Ahora que han pasado los años, a pesar que la pasiòn por lo que hace està ahì, algo ha cambiado en el. De esos años de juventud en los cuales era conciente de sus metas, a medida que ha estado madurando,se diò cuenta que deberìa ser mas conciente de su crecimiento que de sus metas. Cuando estaba solo enfocado en las metas veìa como cada vez que alcanzaba una, caìa como en un estado de ànimo plano como vacìo. Pero enfocado en crecimiento nunca alcanzas la meta, esta se expande, crece tambièn. Ahora cree que esa es una buena definiciòn de lo que la palabra AMBICION se trata.
AMBICION: Metas + crecimiento
Guillermo,
It is so nice to begin the day together.  Today's … A Minute with Maxwell video
message is ready for you!Click the image below … expand your world, then pass it along to others and
expand their world.  Enjoy!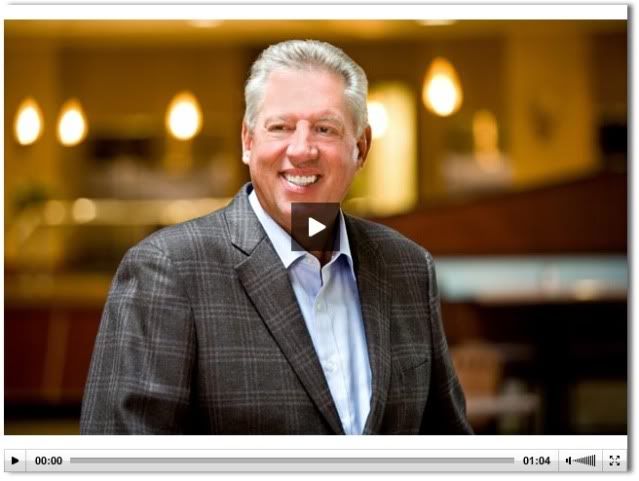 Please leave me your comment regarding this video after you view it.
Direct Link: http://johnmaxwellteam.com/ambition Your Friend,
John C. Maxwell
Are You Connected With Me?
Let's connect on Social Media!FACEBOOK
LINKEDIN
TWITTERInspire Someone...
Please forward this to a friend!
Direct Link: http://johnmaxwellteam.com/ambition
---

About John Maxwell ….
John C. Maxwell is an internationally respected expert speaker, author, trainer
and coach committed to developing people of excellence and integrity, by
providing the finest resources and training for personal and professional
growth.   Each year Dr. Maxwell speaks to such diverse organizations as Fortune
500 companies, foreign governments, the National Football League, the United
States Military Academy at West Point, and the United Nations.   John Maxwell has authored more than 52 books, which have sold more than 19 million copies.
In fact, he holds the honor of the #6 all-time time top seller of books, on
Amazon.com.   His passion has quickly caught on, and countless individuals and
businesses have benefited from his teachings. In fact, Dr. Maxwell has trained
more than 5 million people, in over 126 countries to date, to help them reach
their highest potential!  
2300 N Dixie Highway, West Palm Beach, FL, 33407, United States
Posted via email from Galoperiscol´s stuff.... cool and cheer satisfaction